| | | | |
| --- | --- | --- | --- |
| Show #36 - "Team Leno or Team Conan?" | | | |
Written by Chris Ventura
Thursday, 14 January 2010 21:20
From 1/13/10: So are you on TEAM LENO or TEAM CONAN? Laura and I get together to catch up after not seeing eachother for a couple of months. "Catching up" lasts for about 5 minutes, after which, we proceed into an hour debate over the late-night TV situation of Jay Leno and Conan O'Brien.
BE SURE TO VOTE IN THE POLL ON THE RIGHT OF THE HOME PAGE. WHICH TEAM ARE YOU ON???
Listen on iTunes or if you can't, Download Here (right-click and save).
Don't want to download? Click here to stream it!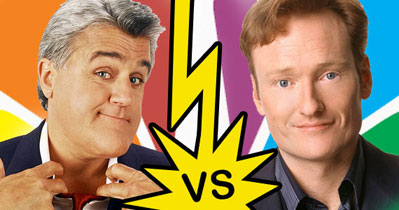 Image credit: screenrant.com -- source (from 1/8/10) below: